FireWire 400 Technical Specifications
Always "Wiki" before you call: FireWire at Wikipedia
FireWire 400 Connector:
The 6-pin FireWire 400 technology supports serial I/O at 100, 200, and 400 Mbps and provides up to 7 watts of power when the computer system is on or when the power adapter is connected and in sleep mode.

The FireWire 400 connector has six contacts, as shown in Figure 3-2. The connector pin assignments are shown in Table 3-2.
Figure 3-2 6-pin FireWire connector: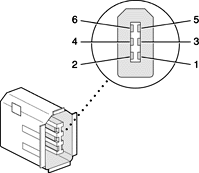 Table 3-2 Pin assignments on the 6-pin FireWire connector
Pin
Signal name
Description
1
Power
Unregulated DC - 12.8 VDC nominal
2
Ground
Ground return for power and inner cable shield
3
TPB-
Twisted-pair B, differential signals
4
TPB+
Twisted-pair B, differential signals
5
TPA-
Twisted-pair A, differential signals
6
TPA+
Twisted-pair A, differential signals
Shell
—
Outer cable shield
When the computer is on or the power adapter is connected, the power pin provides a maximum voltage of 12.8 V (no load) and 7 W power per port. Maximum output current for both ports combined is 1.5 A and is controlled by a self-resetting fuse.

Pin 2 of the 6-pin FireWire connector is ground for both power and the inner cable shield. If a 4-pin connector is used on the other end of the FireWire cable, its shell should be connected to the wire from pin 2.

The signal pairs are crossed in the cable itself so that pins 5 and 6 at one end of the cable connect with pins 3 and 4 at the other end. When transmitting, pins 3 and 4 carry data and pins 5 and 6 carry clock; when receiving, the reverse is true.
See: Apple FireWire Ports: Specifications
Information and Graphics Above - Copyright © 2007 Apple Inc.
---
Additional Specifications:
Six wire 4 signal transfer rates Certified for 1394a to 400 Mbps.
30-micron gold plated contacts on 2mm centers
Durability Connections: beyond 1500 cycles, P & P
Signal Attenuation: <5.8 dB at 400MHz
Signal Velocity of Propagation: < 5.05 nanosec/m.
Signal pairs of propagation skew: < 400 p/s
Crosstalk: < -26 dB
Cable assemblies in standard lengths: 1 meter, 2 meters, 3 meters and 4.5 meters. Custom lengths from 0.2 meters (6 inches).
6 wire = 4 signal (plus ground & power)
4 wire = 4 signal (dual twisted pair)
All Newnex FireWireStuff Cables are compliant with the IEEE 1394-1995-a standards (400 Mbps) and exceed IEEE 1394-b (800 Mbps) specifications.