Cable Adapters
For FireWire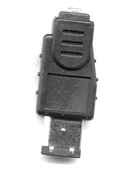 FireWire 6-pin Male to 4-pin Female Cable Adapter

Convert your 4-pin FireWire cable into a 6-pin male adapter. This allows you to remove unwanted noise from the switching power supply of your computer to your audio equipment for crisp pure sound. Connect your 4-pin FireWire camera or audio device to an existing 6-pin connection on your computer. No need for additional cards or drivers!
---
---

Unibrain FireWire 6-pin to 9-pin Cable Converter

Permits you to use your 1394a cable with Firewire 800 devices/ports.
The 6-9 pin adapter can be used on new (late 2008) Apple Macbook Pro laptops to connect legacy Firewire-400 devices on the Firewire-800 built-in port of the Macbook Pro.
Connectors: 6-pin Female to 9-pin Male.
---
---